Impacto de un "Club de Revistas" en la confianza de estudiantes de Odontología para valorar críticamente un ensayo clínico.
Resumen
Introducción: Los clubes de revistas son una estrategia que permiten exponer a los estudiantes a la valoración crítica de artículos desde etapas tempranas de su formación. Su impacto a largo plazo en la formación de competencias es discutido.
Objetivo: Evaluar si las sesiones de un Club de Revistas permiten aumentar la confianza que tienen los estudiantes de Odontología en las habilidades para valorar críticamente un ensayo clínico.
Material y Métodos: Estudio de cohorte prospectivo que involucró 21 estudiantes de la Facultad de Odontología de la Universidad Nacional Mayor de San Marcos (Lima. Perú) que participaron de seis sesiones mensuales de un Club de Revistas. Las sesiones implicaron el análisis y discusión de ensayos clínicos. Se evaluó la confianza para valorar críticamente un artículo antes y después a través de una escala autoadministrada. Las puntuaciones finales y basales se analizaron a través de una prueba de Wilcoxon.
Resultados: 19 estudiantes finalizaron la totalidad de las sesiones. Las puntuaciones antes de las sesiones eviden-ciaron una media de 2,09 ± 1,17, mientras que después de la sexta sesión se obtuvo una media de 3,53 ± 0,26 (p<0,05). Tanto varones como mujeres evidenciaron mejorar su puntuación media luego de las sesiones; sin embargo, no evidenciaron diferencias entre ellos (p=0,08). Los estudiantes de tercer y cuarto año presentaron cambios significativos de sus puntuaciones (p<0,05).
Conclusión: La participación constante a las sesiones de un Club de Revistas permitió mejorar la confianza que tienen los estudiantes al momento de valorar críticamente un artículo del tipo ensayo clínico.
Descargas
Los datos de descargas todavía no están disponibles.
Citas
[1]. Borrelli MR, Farwana R, Gundogan B, Al Omran Y, Pidgeon TE, Agha R. How to apply for the academic foundation programme. Ann Med Surg (Lond). 2018;29:5-9. doi: 10.1016/j.amsu.2018.01.008. PMID: 29692889; PMCID: PMC5911668.
[2]. STARSurg Collaborative. Medical research and audit skills training for undergraduates: an international analysis and student-focused needs assessment. Postgrad Med J. 2018;94(1107):37-42. doi: 10.1136/post-gradmedj-2017-135035. Erratum in: Postgrad Med J. 2018;94(1108):86. Evans, David [added]. Erratum in: Postgrad Med J. 2018;94(1112):324. PMID: 28866608.
[3]. Metcalfe D. Involving medical students in research. J R Soc Med. 2008;101(3):102-3. doi: 10.1258/jrsm.2008.070393. PMID: 18344462; PMCID: PMC2270240.
[4]. Topf JM, Sparks MA, Phelan PJ, Shah N, Lerma EV, Graham-Brown MPM, Madariaga H, Iannuzzella F, Rheault MN, Oates T, Jhaveri KD, Hiremath S. The Evolution of the Journal Club: From Osler to Twitter. Am J Kidney Dis. 2017;69(6):827-836. doi: 10.1053/j.ajkd.2016.12.012. PMID: 28233653.
[5]. Mhaskar R, Emmanuel P, Mishra S, Patel S, Naik E, Kumar A. Critical appraisal skills are essential to informed decision-making. Indian J Sex Transm Dis AIDS. 2009;30(2):112-9. doi: 10.4103/0253-7184.62770. PMID: 21938133; PMCID: PMC3168054.
[6]. Langkamp DL, Pascoe JM, Nelson DB. The effect of a medical journal club on residents' knowledge of clinical epidemiology and biostatistics. Fam Med. 1992;24(7):528-30. PMID: 1397827.
[7]. Kovacevic MP, Baroletti S, Galal SM, Szumita PM. Journal Club Standardization Tool: Helping participants get the JIST. Curr Pharm Teach Learn. 2018;10(3):367-372. doi: 10.1016/j.cptl.2017.11.012. PMID: 29764642.
[8]. Kyriakoulis K, Patelarou A, Laliotis A, Wan AC, Matalliotakis M, Tsiou C, Patelarou E. Educational strategies for teaching evidence-based practice to undergraduate health students: systematic review. J Educ Eval Health Prof. 2016;13:34. doi: 10.3352/jeehp.2016.13.34. PMID: 27649902; PMCID: PMC5066070.
[9]. Ilic D, de Voogt A, Oldroyd J. The use of journal clubs to teach evidence-based medicine to health professionals: A systematic review and meta-analysis. J Evid Based Med. 2020;13(1):42-56. doi: 10.1111/jebm.12370. PMID: 31951092.
[10]. Equator Network. Search for reporting guidelines. CONSORT 2010 Statement: updated guidelines for reporting parallel group randomised trials Available at: http://www.consort-statement.org/
[11]. Gokani SA, Sharma E, Sharma T, Moudhgalya SV, Selvendran SS, Aggarwal N. Impact of a National Journal Club and Letter Writing Session on Improving Medical Students' Confidence with Critical Appraisal. Adv Med Educ Pract. 2019;10:1081-1087. doi: 10.2147/AMEP.S235260. PMID: 31920419; PMCID: PMC6935270.
[12]. Gurney MK, Buckley K, Karr S. Evaluation of a journal club preparatory session on student confidence for a graded journal club. Curr Pharm Teach Learn. 2019;11(12):1221-1230. doi: 10.1016/j.cptl.2019.09.011. PMID: 31836146.
[13]. Mezgebe M, Chesson MM, Thurston MM. Pharmacy student perceptions regarding understanding of and confidence in literature evaluation following a student-led journal club. Curr Pharm Teach Learn. 2019;11(6):557-564. doi: 10.1016/j.cptl.2019.02.018. PMID: 31213310.
[14]. Deenadayalan Y, Grimmer-Somers K, Prior M, Kumar S. How to run an effective journal club: a systematic review. J Eval Clin Pract. 2008;14(5):898-911. doi: 10.1111/j.1365-2753.2008.01050.x. PMID: 19018924.
[15]. Harris J, Kearley K, Heneghan C, Meats E, Roberts N, Perera R, Kearley-Shiers K. Are journal clubs effective in supporting evidence-based decision making? A systematic review. BEME Guide No. 16. Med Teach. 2011;33(1):9-23. doi: 10.3109/0142159X.2011.530321. PMID: 21182379.
[16]. Green BN, Johnson CD. Use of a modified journal club and letters to editors to teach critical appraisal skills. J Allied Health. 2007;36(1):47-51. PMID: 17425191.
[17]. Landi M, Springer S, Estus E, Ward K. The Impact of a Student-Run Journal Club on Pharmacy Students' Self-Assessment of Critical Appraisal Skills. Consult Pharm. 2015;30(6):356-60. doi: 10.4140/TCP.n.2015.356. PMID: 26048467.
[18]. Maloney LM, Marshall RT, Werfel PA, Johnson SE. Using a Journal Club Series to Introduce Paramedic Students to Research Fundamentals and Critical Appraisal of Medical Literature. Prehosp Disaster Med. 2019;34(4):449-453. doi: 10.1017/S1049023X19004618. PMID: 31322497.
[19]. Edwards R, White M, Gray J, Fischbacher C. Use of a journal club and letter-writing exercise to teach critical appraisal to medical undergraduates. Med Educ. 2001;35(7):691-4. doi: 10.1046/j.1365-2923.2001.00972.x. PMID: 11437973.
[20]. Akhund S, Kadir MM. Do community medicine residency trainees learn through journal club? An experience from a developing country. BMC Med Educ. 2006;6:43. doi: 10.1186/1472-6920-6-43. PMID: 16925800; PMCID: PMC1564014.
[21]. Honey CP, Baker JA. Exploring the impact of journal clubs: a systematic review. Nurse Educ Today. 2011; 31(8):825-31. doi: 10.1016/j.nedt.2010.12.020. PMID: 21247668.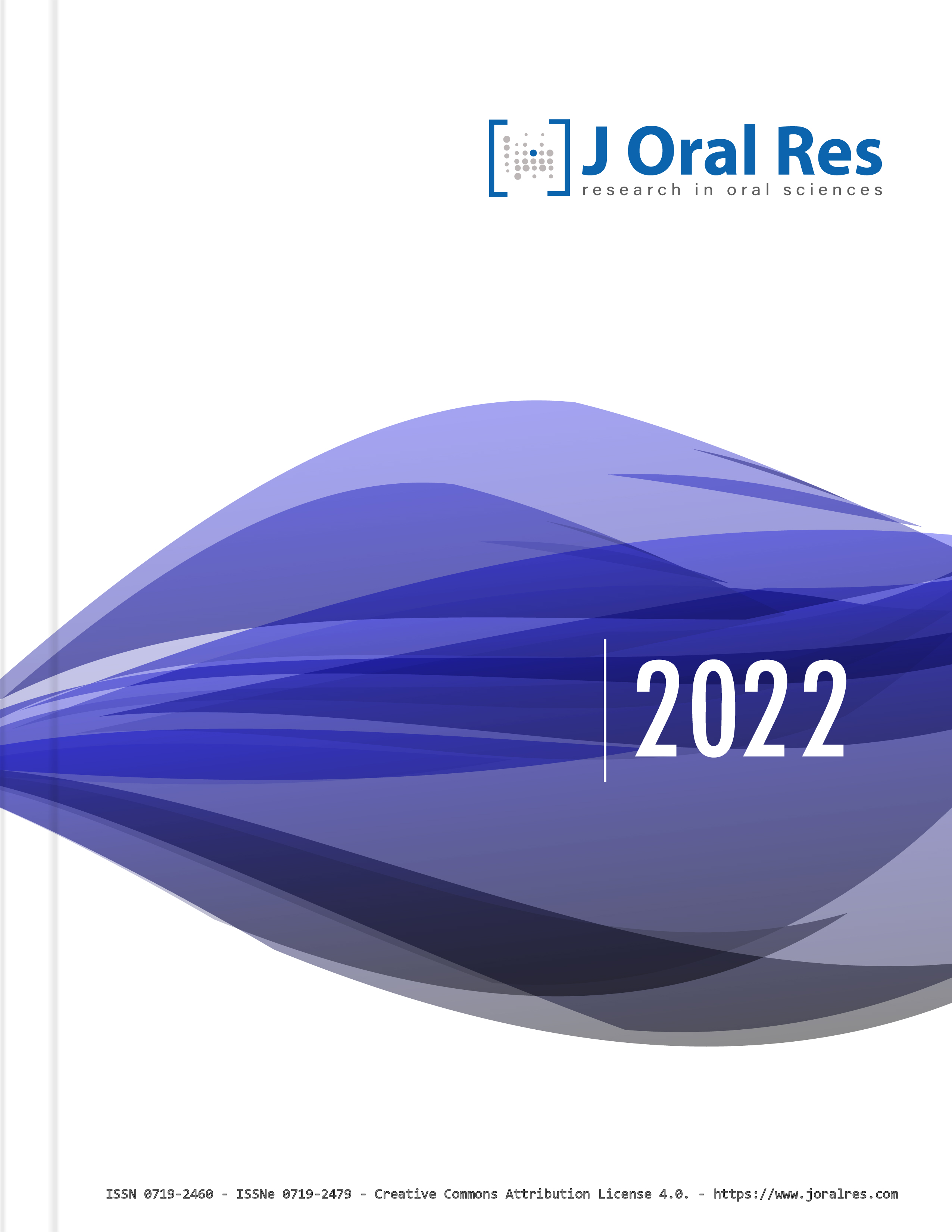 Cómo citar
1.
Castro-Rodríguez Y. Impacto de un "Club de Revistas" en la confianza de estudiantes de Odontología para valorar críticamente un ensayo clínico. J Oral Res [Internet]. 28 de febrero de 2022 [citado 22 de septiembre de 2023];11(1):1-11. Disponible en: https://revistas.udec.cl/index.php/journal_of_oral_research/article/view/8671
Derechos de autor 2022 Journal of Oral Research
Esta obra está bajo una licencia internacional Creative Commons Atribución 4.0.
Este es una Revista de acceso abierto distribuido bajo los términos de Creative Commons Attribution License (CC BY 4.0). Se permite el uso, distribución o reproducción en otros foros, siempre que se acredite al autor o autores originales y a los propietarios de los derechos de autor y se cite la publicación original en esta revista, de acuerdo con la práctica académica aceptada. No se permite ningún uso, distribución o reproducción que no cumpla con estos términos. © 2023.