Comparación de los anchos de los arcos dentarios en sujetos con y sin sobrepeso
Palabras clave:
Arco dentario; sobrepeso; maloclusión.
Resumen
Comparar los anchos de los arcos dentarios en sujetos con sobrepeso y sin sobrepeso. Materiales y Método: Se realizó un estudio transversal comparativo. Se evaluaron 54 sujetos de 8 a 13 años de edad, 27 sin sobrepeso y 27 con sobrepeso. La presencia de sobrepeso se evaluó según el índice de Quetelet. Para determinar los anchos de los arcos dentarios, se analizaron, en los modelos de estudio de cada grupo, las medidas de los anchos intercanino e intermolar superior e inferior con un vernier calibrado digital. La comparación de los anchos de los arcos dentarios de los sujetos con sobrepeso y sin sobrepeso se realizó mediante la prueba U de Mann-Whitney. Resultados: Se encontraron diferencias estadísticamente significativas en los anchos intercanino e intermolar entre los sujetos con sobrepeso y sin sobrepeso (p<0.05). Conclusión: Los anchos de los arcos dentarios fueron mayores en sujetos con sobrepeso que en sujetos sin sobrepeso.
Descargas
Los datos de descargas todavía no están disponibles.
Citas
[1]. Shahroudi AS, Etezadi T. Correlation between dental arch width and sagittal dento-skeletal morphology in untreated adults. J Dent. 2013;10(6):522–31.
[2]. Louly F, Nouer PR, Janson G, Pinzan A. Dental arch dimensions in the mixed dentition: a study of Brazilian children from 9 to 12 years of age. J Appl Oral Sci. 2011;19(2):169–74.
[3]. Prasad M, Kannampallil ST, Talapaneni AK, George SA, Shetty SK. Evaluation of arch width variations among different skeletal patterns in South Indian population. J Nat Sci Biol Med. 2013;4(1):94 –102.
[4]. Lombardo L, Setti S, Molinari C, Siciliani G. Intra-arch widths: a meta-analysis. Int Orthod. 2013;11(2):177–92.
[5]. Kelsey MM, Zaepfel A, Bjornstad P, Nadeau KJ. Age-related consequences of childhood obesity. Gerontology. 2014;60(3):222–8.
[6]. Giuca MR, Pasini M, Tecco S, Marchetti E, Giannotti L, Marzo G. Skeletal maturation in obese patients. Am J Orthod Dentofacial Orthop. 2012;142(6):774–9.
[7]. Eny KM, Chen S, Anderson LN, Chen Y, Lebovic G, Pullenayegum E, Parkin PC, Maguire JL, Birken CS, TARGet Kids! Collaboration. Breastfeeding duration, maternal body mass index, and birth weight are associated with differences in body mass index growth trajectories in early childhood. Am J Clin Nutr. 2018;107(4):584–92.
[8]. Fruhwürth S, Vogel H, Schürmann A, Williams KJ. Novel Insights into How Overnutrition Disrupts the Hypothalamic Actions of Leptin. Front Endocrinol. 2018;9:89.
[9]. Maeda K, Tsuiki S, Isono S, Namba K, Kobayashi M, Inoue Y. Difference in dental arch size between obese and non-obese patients with obstructive sleep apnoea. J Oral Rehabil. 2012;39 (2):111–7.
[10]. Chiquete E, Ruiz-Sandoval JL, Ochoa-Guzmán A, Sánchez-Orozco LV, Lara-Zaragoza EB, Basaldúa N, Ruiz-Madrigal B, Martínez-López E, Román S, Godínez-Gutiérrez SA, Panduro A. The Quételet index revisited in children and adults. Endocrinol Nutr. 2014;61(2):87–92.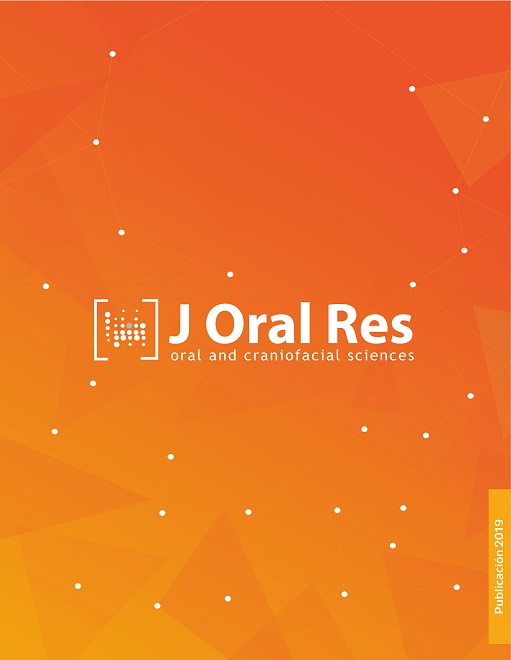 Cómo citar
1.
Yzquierdo-Correa. C, Portocarrero-Reyes W, Carruitero MJ, Claudet-Angulo P. Comparación de los anchos de los arcos dentarios en sujetos con y sin sobrepeso. J Oral Res [Internet]. 28 de febrero de 2019 [citado 25 de septiembre de 2023];8(1):9-12. Disponible en: https://revistas.udec.cl/index.php/journal_of_oral_research/article/view/1033
Derechos de autor 2019 Journal of Oral Research
Esta obra está bajo una licencia internacional Creative Commons Atribución 4.0.
Este es una Revista de acceso abierto distribuido bajo los términos de Creative Commons Attribution License (CC BY 4.0). Se permite el uso, distribución o reproducción en otros foros, siempre que se acredite al autor o autores originales y a los propietarios de los derechos de autor y se cite la publicación original en esta revista, de acuerdo con la práctica académica aceptada. No se permite ningún uso, distribución o reproducción que no cumpla con estos términos. © 2023.