Análisis de indicadores clínicos del manejo de la teleodontología para la población adulta mayor durante la pandemia del COVID-19 en Chile.
Resumen
Objective: To recognize the usefulness of incorporating Three-Dimensional models of standardized humans in electronic health records, in the context of the development of a teledentistry web platform designed for the attention of the elderly population in COVID-19 pandemic context. Material and Methods: A teledentistry web platform designed with different modules for clinical records. Through a new user-computer interface with a standardized virtual 3D phantom, an extraoral physical examination, an intraoral examination section was modeled. A label-associated marker is allowed to record descriptive aspects of the findings. A 3D odontogram represents multiple patient's conditions for each of the 32 dental positions. Results: From a total of 135 patients registered on the platform, 51 markers and 33 photographs associated with the surface of the virtual 3D phantoms were recorded. For the Location parameter: Hard palate 27.6%, inserted gingiva 15.7%, tongue 15.6%. For the Type of lesion parameter (according to the information entered in the pathology selector): unidentified 35.3%, sub-prosthetic stomatitis 23.5%, irritative fibroma 9.8%. Through the registration of the exact location of the finding in the virtual phantom by a 3D marker, the 3D modeling of the oral pathologies contributed to a better diagnosis, improving the remote communication between the attending dentist and specialists. Conclusion:  The combination of the 3D modeling and anatomical-referencing in a teledentistry platform can become a powerful tool for the dental practice, due to their utility and specificity.
Descargas
Los datos de descargas todavía no están disponibles.
Citas
[1]. Peddie J. The history of visual magic in computers: How beautiful images are made in CAD, 3D, VR and AR. Vol. 9781447149323, The History of Visual Magic in Computers: How Beautiful Images Are Made in CAD, 3D, VR and AR. 2013. 1–448.
[2]. Wallis LA, Fleming J, Hasselberg M, Laflamme L, Lundin J. A smartphone app and cloud-based consultation system for burn injury emergency care. PLoS One. 2016;11(2):1-19.
[3]. React-three-fiber. A React renderer for Three.js. GitHub. June 24, 2021. https://github.com/pmndrs/react-three-fiber/
[4]. Three.js. JavaScript 3D Library. June 24, 2021. https://github.com/mrdoob/three.js/
[5]. Flores APDC, Lazaro SA, Molina-Bastos CG, Guattini VLO, Umpierre RN, Gonçalves MR, Carrard VC. Teledentistry in the diagnosis of oral lesions: A systematic review of the literature. J Am Med Inform Assoc. 2020 Jul 1;27(7):1166-1172. doi: 10.1093/jamia/ocaa069. PMID: 32568392; PMCID: PMC7647318.
[6]. Subsecretaría de Redes Asistenciales, Ministerio de Salud. Programa Nacional de Telesalud en el contexto de Redes integradas de Servicios de Salud. 2018. June 26, 2021. http://biblioteca.digital.gob.cl/handle/123456789/3635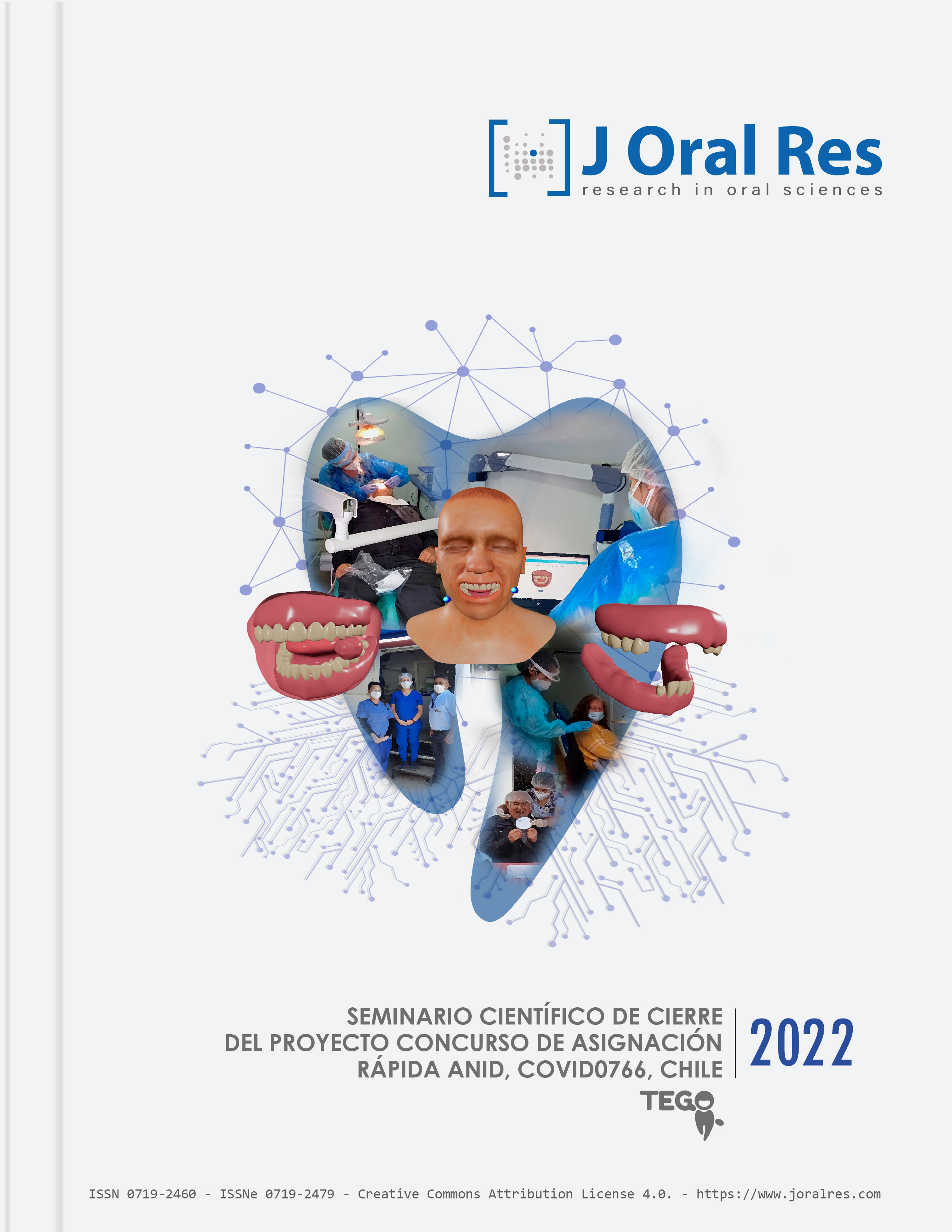 Cómo citar
Ly, P. ., von Marttens, A., Ly, A. ., Fonseca, J. ., & Beltrán, V. . (2022). Análisis de indicadores clínicos del manejo de la teleodontología para la población adulta mayor durante la pandemia del COVID-19 en Chile. Journal of Oral Research, 1(1), 1-7. https://doi.org/10.17126/joralres.2022.025
Derechos de autor 2022 Facultad de Odontología, Universidad de Concepción, Chile.
Esta obra está bajo una licencia internacional Creative Commons Atribución 4.0.