Odontología, nuevas perspectivas por pandemia COVID-19 Revisión Bibliográfica
Resumen
At the end of 2019, a suspicious increase in pneumonia cases occurred in the region of Wuhan, China.
Descargas
Los datos de descargas todavía no están disponibles.
Citas
[1]. Guo H, Zhou Y, Liu X, Tan J. Since January 2020 Elsevier has created a COVID-19 resource centre with free information in English and Mandarin on the novel coronavirus COVIDresearch that is available on the COVID-19 resource centre - including this ScienceDirect The impact of the COVID-19 epidemic on the utilization of emergency dental services. 2020
[2]. Ather A, Patel B, Ruparel NB, Diogenes A, Hargreaves KM. Coronavirus Disease 19 (COVID-19): Implications for Clinical Dental Care. J Endod. 2020 May;46(5):584-595. doi: 10.1016/j.joen.2020.03.008. PMID: 32273156; PMCID: PMC7270628.
[3]. Blackhall KK, Downie IP, Ramchandani P, Kusanale A, Walsh S, Srinivasan B, Shields H, Brennan PA, Singh RP. Provision of Emergency Maxillofacial Service During the COVID-19 Pandemic : A Collaborative Five Centre UK Study. Br J Oral Maxillofac Surg. 2020;58(6):698-703. doi: 10.1016/j.bjoms.2020.05.020. PMID: 32482348; PMCID: PMC7247479.
[4]. Bai J, Xu T, Ji AP, Sun W, Huang MW. Impact of COVID-19 on Oral Emergency Services. Int Dent J. 2021;71(1):27-31. doi:10.1111/idj.12603. PMID: 3616050; PMCID: PMC7361318.
[5]. Wu KY, Wu DT, Nguyen TT, Tran SD. COVID-19's impact on private practice and academic dentistry in North America. Oral Dis. 2021;27 Suppl 3:684-687. doi: 10.1111/odi.13444. PMID: 32472974; PMCID: PMC7300727.
[6]. Grossman S, Sandhu P, Sproat C, Patel V. Provision of dental services at a single institution in the UK's epicentre during the COVID-19 pandemic. Br Dent J. 2020;228(12):964-970. doi: 10.1038/s41415-020-1716-2. PMID: 32591713; PMCID:PMC7319191.
[7]. Farooq I, Ali S. COVID-19 outbreak and its monetary implications for dental practices, hospitals and healthcare workers. Postgrad Med J. 2020 Dec;96(1142):791-792. doi: 10.1136/postgradmedj-2020-137781. PMID: 32245754.
[8]. Martínez-Camus DC, Yévenes-Huaiquinao SR. Atención Dental Durante la Pandemia COVID-19. Int J Odontostomat. 2020; 14(3):288-95. doi.org/10.4067/S0718-381X2020000300288.
[9]. Machado RA, Bonan PRF, Perez DEDC, Martelli JÚnior H. COVID-19 pandemic and the impact on dental education: discussing current and future perspectives. Braz Oral Res. 2020 Jun 29;34:e083. doi: 10.1590/1807-3107bor-2020.vol34.0083. PMID: 32609144.
[10]. Al-Jabir A, Kerwan A, Nicola M, Alsafi Z, Khan M, Sohrabi C, O'Neill N, Iosifidis C, Griffin M, Mathew G, Agha R. Impact of the Coronavirus (COVID-19) pandemic on surgical practice - Part 1. Int J Surg. 2020 Jul;79:168-179. doi: 10.1016/j.ijsu.2020.05.022. PMID: 32407799; PMCID: PMC7214340.
[11]. Carrard VC, Roxo Gonçalves M, Rodriguez Strey J, Pilz C, Martins M, Martins MD, Schmitz CA, Dal Moro RG, D'Ávila OP, Rados D, Harzheim E, Gonçalves MR. Telediagnosis of oral lesions in primary care: The EstomatoNet Program. Oral Dis. 2018 Sep;24(6):1012-1019. doi: 10.1111/odi.12851. PMID:
[12]. Talla PK, Levin L, Glogauer M, Cable C, Allison PJ. Delivering dental care as we emerge from the initial phase of the COVID-19 pandemic: teledentistry and face-to-face consultations in a new clinical world. Quintessence Int. 2020;51(8):672-677. doi: 10.3290/j.qi. a44920. PMID: 32778857.
[13]. de Lucena EHG, Freire AR, Freire EWDG, de Araújo ECF, Lira GDNW, Brito ACM, Padilha WWN, Cavalcanti YW. Access to oral health in primary care before and after the beginning of the COVID-19 pandemic in Brazil. In SciELO Preprints. doi. org/10.1590/SciELOPreprints.819
[14]. Peloso RM, Pini NIP, Sundfeld Neto D, Mori AA, Oliveira RCG, Valarelli FP, Freitas KMS. How does the quarantine resulting from COVID-19 impact dental appointments and patient anxiety levels? Braz Oral Res. 2020;34:e84. doi: 10.1590/1807-3107bor-2020.vol34.0084. PMID: 32609145.
[15]. Yu J, Zhang T, Zhao D, Haapasalo M, Shen Y. Characteristics of Endodontic Emergencies during Coronavirus Disease 2019 Outbreak in Wuhan. J Endod. 2020; 46(6):730-735. doi: 10.1016/j.joen.2020.04.001. PMID: 32360053; PMCID: PMC7151235.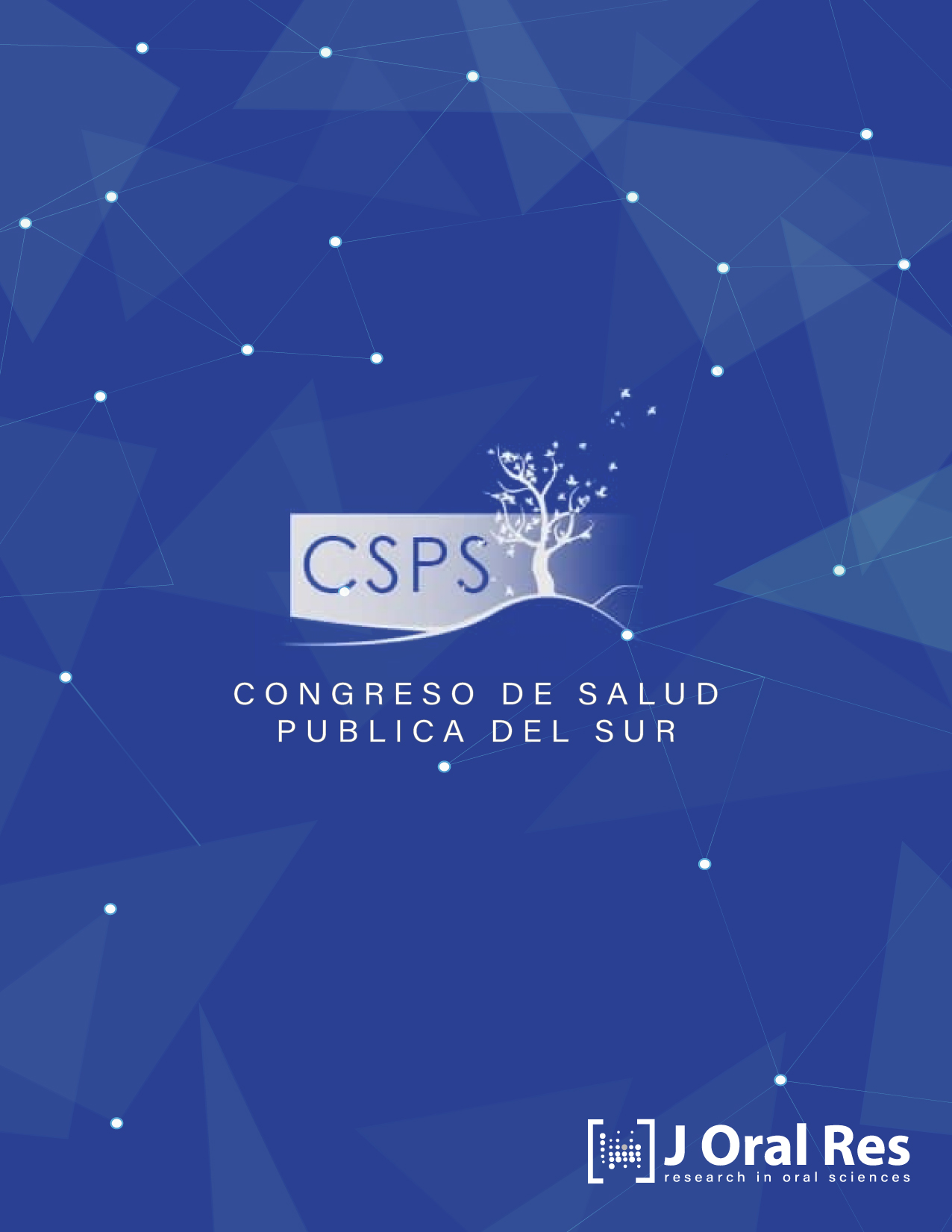 Cómo citar
Pesenti Moreira, P., Muñoz Jiménez, E. ., & Campos Cannobio, V. (2021). Odontología, nuevas perspectivas por pandemia COVID-19 Revisión Bibliográfica. Journal of Oral Research, 1(1), 1-4. https://doi.org/10.17126/joralres.2021.042
Derechos de autor 2021 Joralres
Esta obra está bajo una licencia internacional Creative Commons Atribución 4.0.