WILD BARBERRY FRUIT (Berberis microphylla G. Forst.) AS A NATURAL INGREDIENT FOR BEER BREWING
Palabras clave:
calafate, Andean, red-beverage, berry, antioxidants
Resumen
Barberry (Berberis microphylla) is a wild berry endemic to the Andean-Patagonian zone of Argentina and Chile. Even though it is not widely used or consumed, it has great potential for coloring and enrichment of different food matrices due to its high anthocyanin and antioxidant contents. The objective of this study was to evaluate the impact of barberry addition on quality parameters and stability of sour beer. Nutritional, physicochemical and sensory characteristics of the beer were analyzed. Firstly, different amounts of freeze-dried barberry were added to sour beer (0, 2.5, 5, and 10 g L-1) after primary fermentation. In the next experiment, beers brewed with 0 (control) and 5 g L-1 of barberry were stored at 5ºC for up to 90 days and evaluated on a monthly basis. As demonstrated by the CIE Lab and Abs520nm parameters, barberry addition resulted in a marked color shift towards ruby ??red tones. It also increased TEAC and phenolic contents by 2-4 times, without affecting beer pH, acidity, or density. Furthermore, it had a positive impact on overall impression, appearance, aroma, flavor and balanced scores in a trained sensorial panel. Beer total anthocyanins varied between 30 and 100 mg D3G L-1. The beers brewed with barberry fruit presented stable antioxidant capacity, total anthocyanin content and both anthocyanin ionization and polymerization degree during storage. The results show that barberry can be used as an ingredient to make red and antioxidant-enriched sour beers with good stability during storage
Descargas
Los datos de descargas todavía no están disponibles.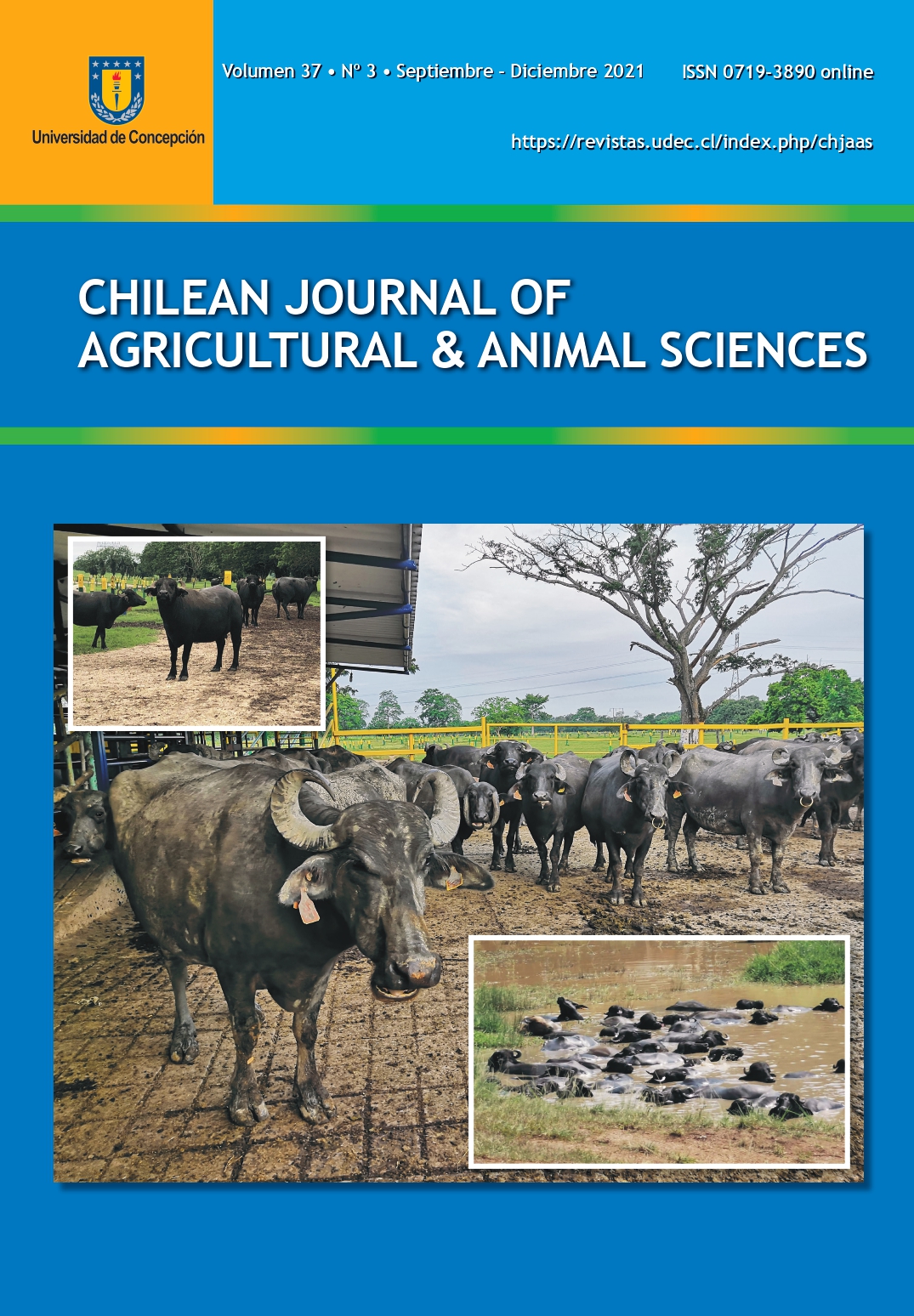 Cómo citar
Lemoine, M. L., Fontana, U., Hurtado, J. B., Pintos, F. M. ., Arena, M. E. ., Vicente, A. R. ., & Rodoni, L. M. . (2021). WILD BARBERRY FRUIT (Berberis microphylla G. Forst.) AS A NATURAL INGREDIENT FOR BEER BREWING. Chilean Journal of Agricultural & Animal Sciences, 37(3), 313-324. https://doi.org/10.29393/CHJAAS37-32WBML70032
Esta obra está bajo una licencia internacional Creative Commons Atribución 4.0.