SOIL CHARACTERISTICS AND SALICYLIC ACID SUPPLEMENTATION IN CASTOR BEAN (Ricinus communis L.) OIL PRODUCTION
Resumen
Castor bean (Ricinus communis L.) is an oleaginous plant of economic importance due to its different industrial applications. Edaphic characteristics are used to determine the viability of places considered as suitable to obtain castor oil. The objectives of this study were to determine the edaphic characteristics and oil content of R. communis, and to evaluate elicitation with salicylic acid (SA) in El Marqués, Querétaro, Mexico. Sampling was carried out in a direct way, selecting sites where castor bean plants were found. Samples of 1.5 kg of soil were taken and 3 clusters of castor bean in a mature state were collected from 21 accessions. The physicochemical characteristics of the soil and oil content of seeds were determined. Finally, 300 plants of the Guanajuatoil variety were planted and elicitated with different SA concentrations under greenhouse conditions in order to determine oil content. The physical analysis of the soil samples indicated dark-colored soils, Mollisol and Vertisol types, with different textures: clay, clay loam, sandy clay loam and sandy loam. Soil chemical analyses showed the following soil characteristics: pH 7.22; electrical conductivity 0.52 dS m-1; organic matter 7.17%; cation exchange capacity 26.77; calcium 38.62, magnesium 6.81, sodium 13.41and potassium 6.97 cmol kg-1; and nitrogen and phosphorus contents of 16.32 and 54 mg kg-1, respectively. Castor oil content was higher in clay soils (41.46%). The plants elicited with SA presented oil contents ranging from 28.99% to 52.9%, obtained with 100 and 900 µM. In conclusion, elicitation with SA is an adequate method to increase oil content in castor bean seeds. The locality of El Marqués has good potential for the production of castor oil.
Descargas
Los datos de descargas todavía no están disponibles.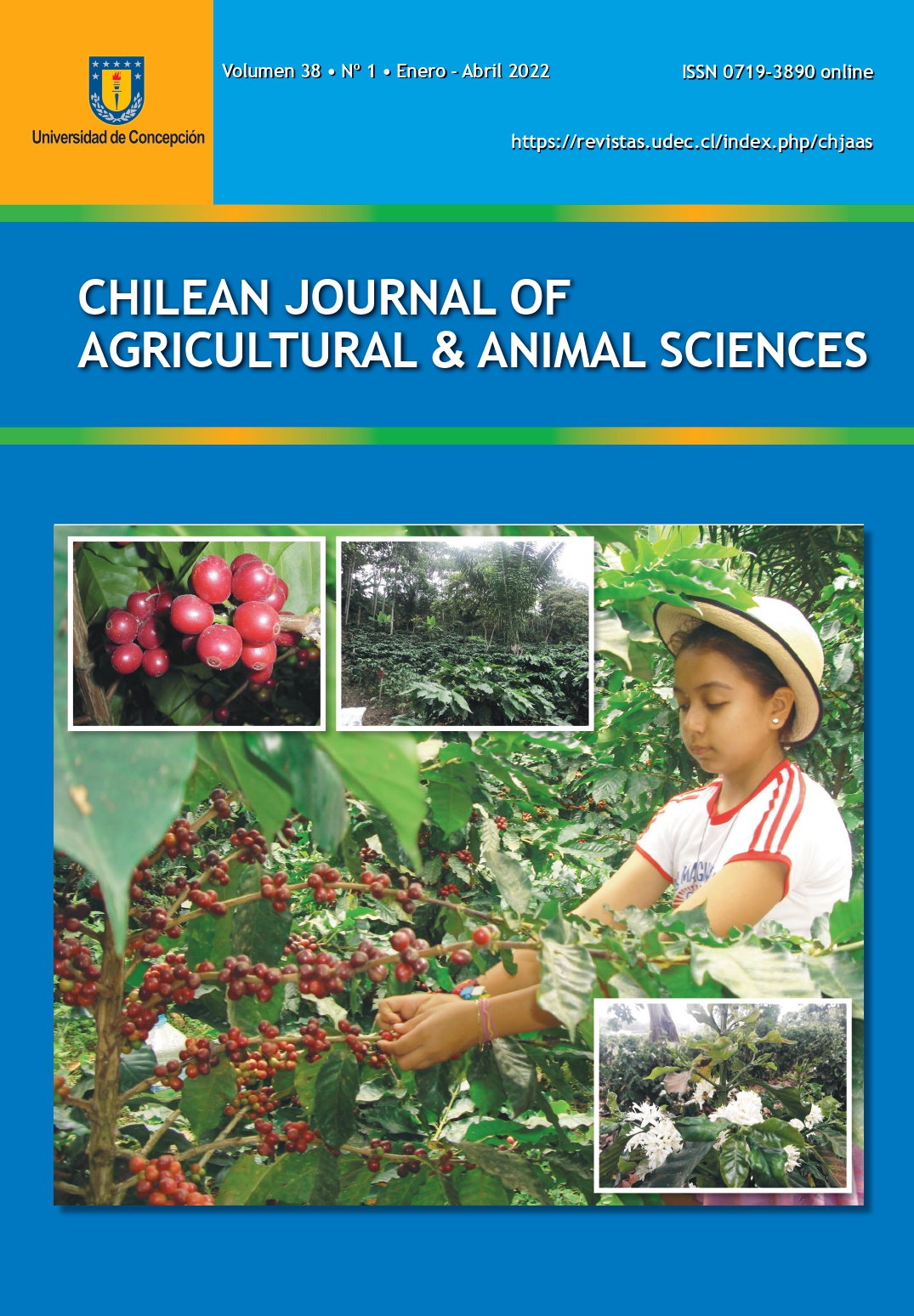 Cómo citar
Vázquez-Martínez, B. E. ., Zavala-Gómez, C. E., Ramos-López, M. A. ., Vela-Correa, G. ., Flores-Macías, A. ., González-Chávez, M. M. ., Campos- Guillen, J. ., Soto-Muñoz, L. ., Valencia-Hernández, J. A. ., Rodriguez- Morales, J. A. ., Feregrino-Pérez, A. A. ., & Zavala, G. A. . (2022). SOIL CHARACTERISTICS AND SALICYLIC ACID SUPPLEMENTATION IN CASTOR BEAN (Ricinus communis L.) OIL PRODUCTION. Chilean Journal of Agricultural & Animal Sciences, 38(1), 84-93. https://doi.org/10.29393/CHJAAS38-8SCBG120008
Derechos de autor 2022 Universidad de Concepción
Esta obra está bajo una licencia internacional Creative Commons Atribución 4.0.